Take a look at this great article by the News and Tribune highlighting our learners presenting their Shark Tank inventions to community partners as part of a project wrapping up the end of the semester! #ThinkClarksville #NewTechNetwork #PBL
CLARKSVILLE — Renaissance Academy juniors Keegan Allred and Tyler Howard stood in front of their U.S. history class and asked for $100,000.
In exchange for the money, investors would get a 20 percent stake in the students' fictional company and their invention, a golf ball with a GPS chip inside so stray balls can be recovered, would get off the ground.
"The problem is the average golfer loses at least one golf ball per round," Allred explained. Based on numbers from a golf.com survey, those lost balls equate to an average of $200 a year, according to Allred.
He and three classmates worked together on the proposal and on Monday presented it to two Indianapolis professionals during a mock "Shark Tank." Modeled after the ABC reality TV show, "Shark Tank" brings entrepreneurs and business hopefuls in front of investors, the "sharks," with the hope of securing funding for their idea.
Those professionals – Kevin Casey, who works in marketing, and Chris Waugh, a software developer – heard proposals for a device that ties shoelaces, detachable pockets, an organ regeneration business model and more. After each student group presented, Casey and Waugh tested their knowledge of their own project and their business acumen.
The presentations were the final step in a four-week lesson for Emma Cudahy's U.S. History class.
"We spent some time learning about the history of innovation in the U.S. and how that innovation drives progress, for better and for worse," Cudahy said. "They were tasked with thinking of something that would have a positive impact."
The students studied "anything that has to do with technology improving and being enhanced and how that drives history and effects society at large," according to Cudahy.
 Bringing in real-world professionals, either from the area or nearby metropolises, gives students a chance to sharpen speaking skills and is a part of every presentation Cudahy facilitates.
"It's never an easy thing to do, talking to strangers that come in and strangers that are qualified business professionals," Cudahy said. "We give these kids opportunities to interact with community partners before they're sent to college or the working world where they're expected to have those skills."
Though the two "sharks" were not investing real money Monday, they did walk away with favorites.
As a golfer, Waugh favored the GPS golf ball. Casey was a fan of shoes with replaceable soles, thanks primarily to a 3-D printed prototype and solid presentation, and Cudahy would have invested in a solar-powered water purification system because it was a "good idea" and the students offered a "high stake for low investment."
Parent Brandy Sidebottom made a deal with her daughter – if she gave Renaissance Academy a shot for two years and hated it, she could go back to a traditional high school. After a year of project-based learning, there was no turning back. "I believe it changed her life, really," Sidebottom said.Read more about the outstanding work at Renaissance Academy, the importance of trusting students and their first graduating class.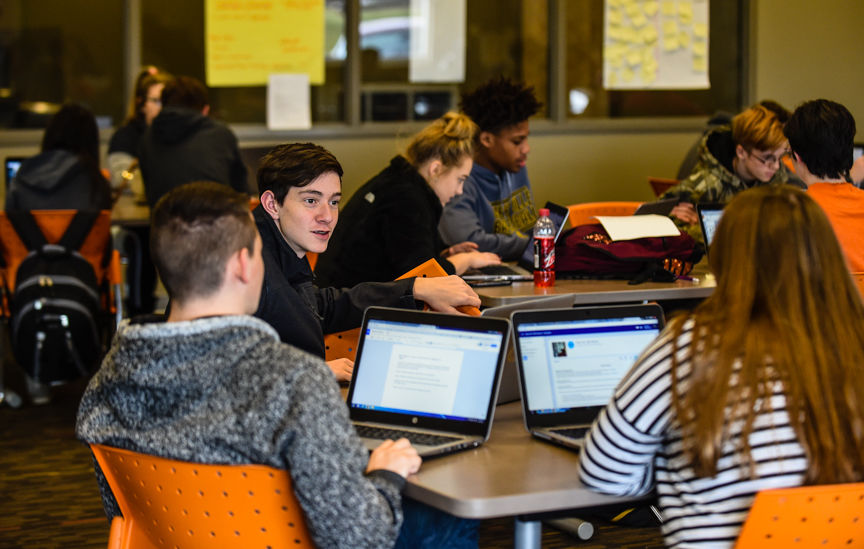 "I believe it changed her life, really," she said. "She's engaged, the parts she was struggling with she was able to flourish … Each student, each kids has something different but they all know that they're in charge of their education. I think that's awesome."
A NEW MODEL
 The Renaissance Academy, Clarksville Community School Corp.'s second high school, is mistaken for a number of well-known school models: private, charter, Community Montessori, technical or strictly online.
In reality, it is none of those but rather a new take on education called "New Tech."
The key, according to school director Brian Allred, is project-based learning and creating a culture where the students are given autonomy and work in groups, much like they would experience in any real-world situation.
"It's about that student voice and listening and acknowledging and if you just step back and listen a little bit, they can come back with some great things," Allred said. "It's amazing what they can come up with when we as the adults don't constrain them and say they all have to fit in one little box. We become very biased as adults. We've been around a while, we become very experienced this, we've experienced that. We like to kind of have these boundaries and parameters set. It can stifle the process because we become very beholden to what we know."
Teachers, referred to as facilitators, allow students to work on projects that demonstrate the lesson. There is direct instruction, but more often students use hands-on experience to solve the problem, work as a group and learn the lesson along the way.
Working together and using resources are the types of soft skills modern day employers are looking for in new hires, Allred both said.
"This project-based, work-based, reality-based type education, that's where the state's going. It's where everybody's going because you've got to be able to work with people and be there on time, be in attendance and the biggest thing, I think, is working with other people," Bill Wilson, Clarksville Community Schools' board president, said.
Renaissance Academy is the only school in Clark or Floyd counties that follows this model. The next closest New Tech school is in Scottsburg.
Being the only school of its type in the area is exactly what Wilson had in mind. Wilson learned of the model during a school board meeting in Indianapolis and was impressed with the students that those schools were churning out. He and other community stakeholders visited a model school in Columbus several times before making the decision to bring one to his school corporation.
"Clarksville being centrally located the way we are, I think we have access to a lot of people down here and we wanted to bring that model here to benefit Clarksville and Southern Indiana," Wilson said.
FIRST WALK
The school began with a just freshman class of 42 in 2014 and has added a grade level each year since. With the full gamut of grade levels, enrollment now sits at 142.
 "This is new in our area and when you start talking about kids education, their parents are going to get a little skeptical," he said. "Parents want what's best for their kids and they want some guarantee that their child is going to go to a place where their kid is going to get what they need and they're going to flourish."
The students that have enrolled in the school come from all different backgrounds, according to Allred. Some come straight from Clarksville Middle School, others feed in from other corporations and there are some who come from a private school or home-school background.
Wilson is also happy with the enrollment, but at the same time believes there is work yet to be done.
"We are hoping to scale it up to that level [of Columbus]. We knew it would be a little more difficult because Columbus and Bloomington schools — they're bigger. We are still trying to enlarge and expand our reach," Wilson said.
The best way to do that is to produce the excellent students that exemplify those skills the model aims to instill.
Allred says the proof is in the pudding: The first graduating class walks this spring and each student is on track to graduate, many with honors diplomas, and/or technical honors and earned college credits.
Sidebottom's daughter, a senior, will graduate a semester early, this December, and plans to attend Indiana University Southeast to study photojournalism.
"If I had more kids I would say they're going to Renaissance," Sidebottom said.
Renaissance Academy hosted its first Service Learning Day of the 2017-18 school year on Dec. 1!
More than 75 sophomores and seniors spent the day giving back within the community, volunteering and giving their time to places including Clarksville Cares, The Soup Kitchen, Jeffersonville Art Commission and spending time with residents at Riverview Village!
It was a fantastic Service Learning Day!
Our freshman and junior learners will have their Service Learning Day in the Spring! #ThinkClarksville